Snapchat May Be The Most Important Force Making AR & VR Go Mainstream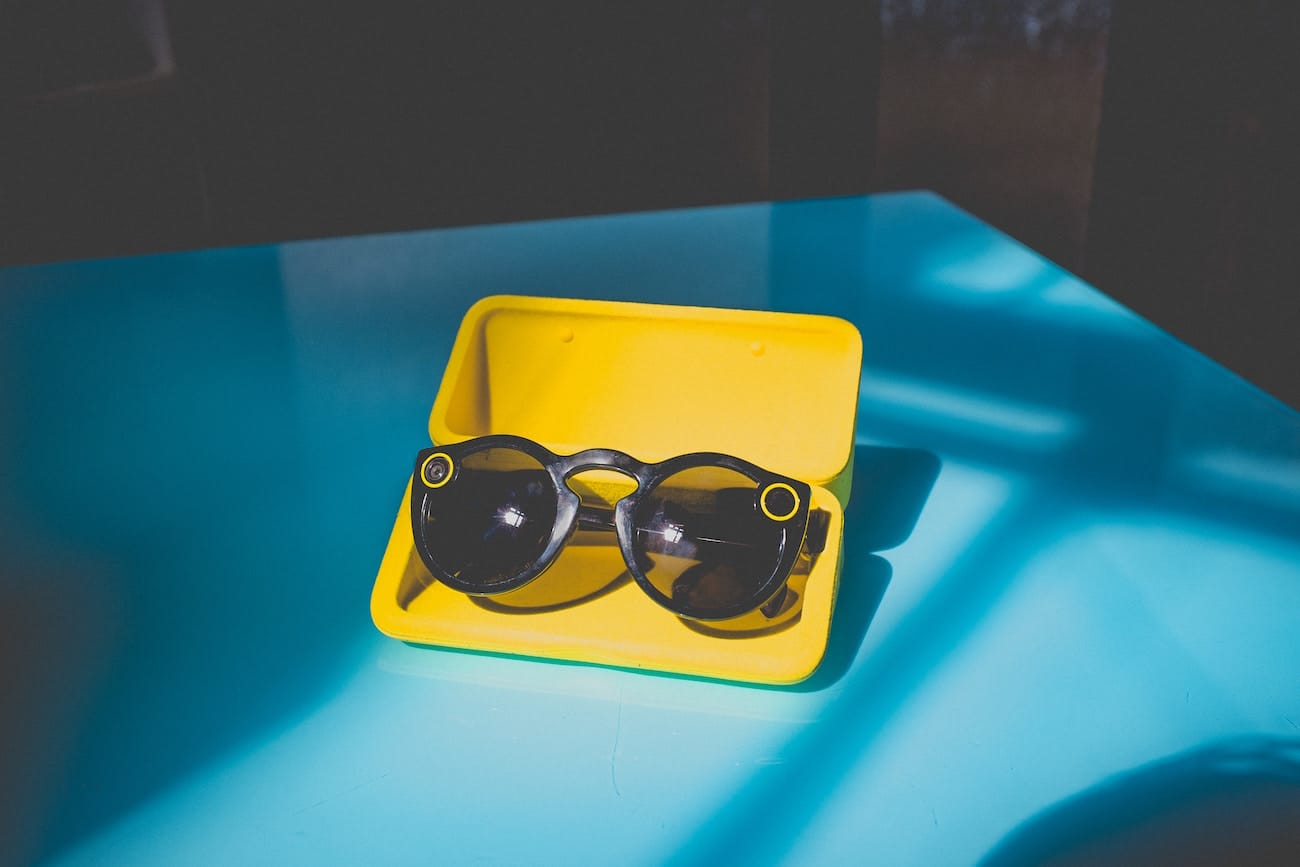 You know the posture: Head down, shoulders hunched, T-Rex arms tapping away on a tiny screen as we sacrifice our eyesight, all to scroll through our feeds on the go.
The original iPhone was an incredible innovation when it came out in 2007, and I find it to be shocking that the 5" hand held screen is still the only way that we can interact with our information when we're on to go.
Our current mobile phone design is the worst way that information access could be designed, but what's better? I've been struggling with that question for years (much more qualified designers than me have been doing the same), and there isn't an obvious solution that people wouldn't find prohibitively creepy, but Snapchat may actually prove itself useful by developing not only a solution that works, but one that breaks down the creep-factor.
Remember Spectacles? 2 years ago Snapchat released glasses that allowed its wearer to shoot round first-person photo and video. With a $129 USD price tag, and very limited functionality, the glasses didn't live up to the hype and thousands of pairs ended up rotting away in California warehouses.
The glasses attracted a ton of attention, if not actual purchases, and millions of us were introduced to the idea that we might wear devices on our faces that can collect and publish information. It's a harmless little ghost posting goofy kid-videos to a disappearing platform, we all thought, and instantly the creep-factor that had always been associated with camera-glasses dropped considerably.
Now, Snapchat is coming back to the well with a version that promises to incorporate Augmented Reality. They've just released the ability for us to interact with games, challenge friends and even have branded experiences that feel like they're right in front of us. Those experiences aren't yet available in the Glasses, but the integration is inevitable.
Snapchat launches Spectacles V2, camera glasses you'll actually wear https://t.co/yv07mAOel7 pic.twitter.com/xjk2Cao4Lw

— TechCrunch (@TechCrunch) April 26, 2018
Why is that important? It's the first major advancement towards anything better than the current terrible phone interface (let's not even start on the QWERTY keyboard) and towards the possibility of a more human way of interacting with our information.
What Snapchat is doing is not new. It's not even particularly special in the world of AR/VR, but what it is doing is making it seem accessible and pushing down the creep-factor ever further. And that's what Snapchat has proven that it's best at: Invent a new way of communicating/interacting, break through to a new audience of people, and the moment that there's an indication that the public is into it, the big(ger) guys come along and improve on it.
Poor Snapchat. Remember when they were the coolest kids in town because they invented Stories? Or Filters? Or Disappearing Chat?
I feel confident saying that's exactly what's going to happen again with Spectacles. Facebook and Google each have significantly greater investments in AR/VR technology sitting there waiting to be released to the public, and all that they need is the cool kid to come along and make it socially acceptable. Enter: Snapchat.
Maybe that's its role from here on out, and maybe that's not such a bad thing for them. What Snap does for all of us is to act like an Oracle of things to come; Not of the way that new things will actually be used, but as first iterations – dumbed down and unsophisticated versions of what's next. And maybe that's just what we need to help break through the monolithic world dominated by just a couple of mega-corps.
In the meantime, consider these two things:
What are all of the ways that your day would get better if you didn't have to hunch over and squint every time you wanted to access information or send a message?
How will your digital strategy adapt when brands get the opportunity to show up in richer, more meaningful ways than an image on a screen?
This stuff may feel like science fiction right now, but the kids over at Snapchat are making sure that it becomes reality in a hurry.
If you found this post interesting, then I'd love to have you sign up to receive the Social Brief every Monday.
That's an email that we send out that includes thoughts like these, as well as what's been happening in the world of social & digital this week. And, of course, we'd never sell or share your address with anyone. Just pop your email in the field below and I'll see you next Monday.