Does Your Digital Spark Joy?

It's the phrase that's become a powerful meme for simplifying your life, using your closet as a metaphor. To Spark Joy in Kondo-land is to add value to your life, to bring you light and happiness.
As we've been working through our own rebrand, Marie's calming, persistent voice has been ringing in my ear because, as I've seen so many clients experience, there are just so many good options out there in digital and they all seem to be demanding space in our plan.
Should we be spending our time and energy optimizing for long-tail search?
Should we be focused on video content?
What about a podcast? We should really have a podcast, right?
This experience has been eye-opening for us, so I'd like to share with you our Marie Kondo-inspired method for getting to the core of your digital plan – those elements that "spark joy" for you and your leadership:
Start With a Big, Bold, Non-Technical Goal
Why are you doing this in the first place? If you are to be 100% aligned across the entire company (which is a key element to a digitally-successful organization) then you have to be able to clearly communicate what you're working towards and how that impacts the company in a real way.
In Kondo's work, her goal is to create clarity, simplicity, and peace in a person's life so that they are able to live without the stress and anxiety that comes with clutter. Your business is not a household, but what would a clutter-free digital strategy help you to achieve?
Pull It All Out Of The Closet
It can be a mess back there – old practices, routines and reports that fill up schedules, and we can barely remember why we got them in the first place.
The key to clarity is taking a full inventory of everything that's currently taking up space. Call a meeting with everyone who executes anything in digital and have them bring a line-by-line inventory of everything that you're up to. Consider the following:
Content creation
Website updates/maintenance
Agency management
Brief writing
Copywriting
Publishing
Community management
Outreach/PR
Listing management (Google Places, TripAdvisor, GlassDoor etc.)
Reporting
Third party software management (AHREFS, Hootsuite, Creative Cloud, etc.)
Affiliate management
Influencer coordination
Display network management
Meetings
This phase isn't about judgment, it's simply about taking inventory.
Ask the Big Question
This is where Marie has gotten herself famous, it's also where you get to be savage about your priorities. Create your own version of Spark Joy, and make it about your Big, Bold Non-Technical Goal.
If your goal is to shift your customers to e-commerce, then ask yourself if your SEM strategy is sparking that movement, or if it's driving more people into your stores.
If your goal is to position your brand as the highest quality provider in your market, then is that promo code serving you?
In true Tidying Up fashion, hold each item one by one. Think about how it contributes to your goal, why it's there, and what it's costing you to keep in place.
What Are You Giving Up?
As each sacred practice comes up, whether that be your Twitter account or display ads, consider that you have a surplus of opportunities. You are constantly saying no to otherwise valuable ideas, practices or tools because you don't have enough time or resources. Now consider that the same practice that you're holding on to is holding you back from taking on those other opportunities. Is it still worth holding on to?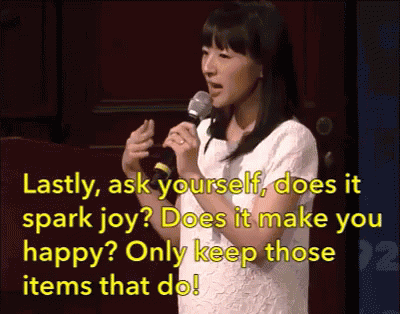 Start From Scratch
There is no rule that says that you have to spend your whole budget. At the same time, the limit that you've set is probably arbitrary, so rather than working backward from your total to nickel and dime your way to a balanced budget, start from zero and build up. What would you keep? What would you add that you're not doing now? What needs to be sent to the landfill? Answer all of those questions using the criteria: Does it help to achieve my Big, Bold, Non-Technical Goal? And is it the most effective use of my resources?
When we looked at our own digital plan through that lens, one thing became brilliantly clear: The Brief, the weekly email that we prepare and send about what's happening and why it matters (or doesn't) is the #1 way that we can create value for our community, and demonstrate our way of thinking to ultimately grow our impact. That means as we continue to create & publish on a variety of channels, The Brief will always be priority 1. Even more importantly, when we think about channels like social, paid, PR or speaking engagements, all roads ultimately lead back home to our email.
Here's my opportunity to practice what I preach: The Brief is better than ever. We're doubling down on it, investing in design, more research, interviews, and other valuable features, so if you haven't yet: sign up in the box below.
If you have, then thank you, and please pass this post on or send all of your friends to brief.wearejunction.com.